The natural oasis
Swiss National Park
The Swiss National Park was founded in 1914, making it the oldest national park in the Alps. It is a unique natural oasis with a 170 km² core zone in which all natural processes can operate without restriction.
For this reason, the National Park has been classified as a wilderness area by the World Conservation Union (IUCN) and thus meets the strictest standards that exist internationally for protected areas. The Val Müstair, together with the unspoilt Val Nüglia, is also part of the national park and, along with Zernez, S-chanf and Scuol, is one of the four park municipalities.
Nature in its purest form
The Swiss National Park is a wilderness landscape in the Engadine Dolomites that has been untouched by man for over 100 years (category 1a according to IUCN). Wilderness areas have become rare in Europe and are considered to be havens of biodiversity. The Swiss National Park, for example, is also known for its unique flora and fauna, which can be explored on an 80-kilometre network of hiking trails. However, the paths may not be left, and even resting is only permitted in marked areas. Nature is grateful. Flora and fauna are extremely diverse. The autumn deer rut in the Val Trupchun and spectacular sightings of bearded vultures are legendary.
Fritz and Paul Sarasin, Carl Schröter and Steivan Brunies were far-sighted men. The conservationists leased the Val Cluozza from the municipality of Zernez in 1909. They wanted to take a piece of mountain nature away from human use and observe its natural development. Five years later, the Swiss Confederation agreed to the establishment of a national park near Zernez. The development back to a nature-dominated habitat has been documented by scientific research for over 100 years now. A development that has led to a very high species richness, especially on a small scale. In addition to nature conservation and research, raising public awareness is one of the core tasks of the national park today.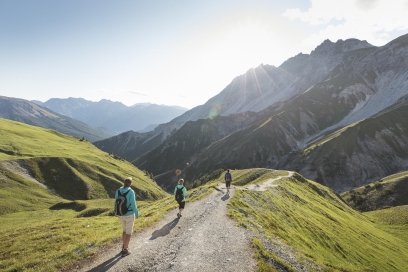 You can find more information on the Swiss National Park here: