Traces of yesteryear
Cultural landscape in transition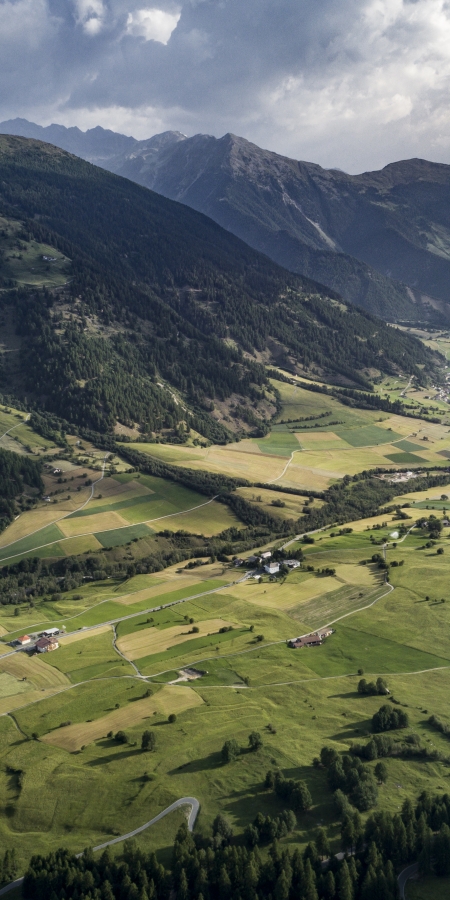 We humans have been shaping our landscape for thousands of years. In the Val Müstair, a diverse mosaic of meadows, fields, hedges, dry stone walls and other elements has emerged. For the preservation of this cultural landscape, it is important to deal with its history.
In many parts of Switzerland, the cultural landscape was richly structured until the 19th century. Small fields and fruit trees surrounded the settlements. Hedges and stone walls separated small parcels of land from each other. For a long time, traditional ways of cultivating the land hardly changed. It was only through the increasing mechanisation and intensification of cultivation that a change took place. In the course of this, many structures in the landscape disappeared. Individual trees were felled, hedges removed, dry stone walls demolished and terraces levelled. For many animal species, however, it is precisely these structures that are important, as they serve as hunting grounds and provide shelter.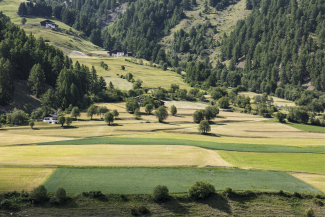 A comparison of landscape photographs, then and now, opens up an objective view of the sometimes creeping changes. In the Val Müstair, many structures are still present in the landscape, the change is often only to be found in small details. But the photographs also show such changes. We invite you on a journey back in time through the cultural landscape of the Val Müstair. The look back is intended to pursue the question: Which landscapes have disappeared and which ones do we want to create? Because an attractive cultural landscape is home, habitat for diverse animal and plant species and the economic basis of a tourist region.
Closely linked to the cultural landscape are the people and their knowledge of the cultural assets relating to crafts, farming, culture, nature and social life. The nature park would like to preserve this knowledge for present and future generations. A project based on interviews (oral history) with our older population should contribute to this. Interested persons born in 1950 and earlier who grew up in the Val Müstair can take part in the interviews and contact the Biosfera Val Müstair.