Where beauty is created
Tessanda hand weaving mill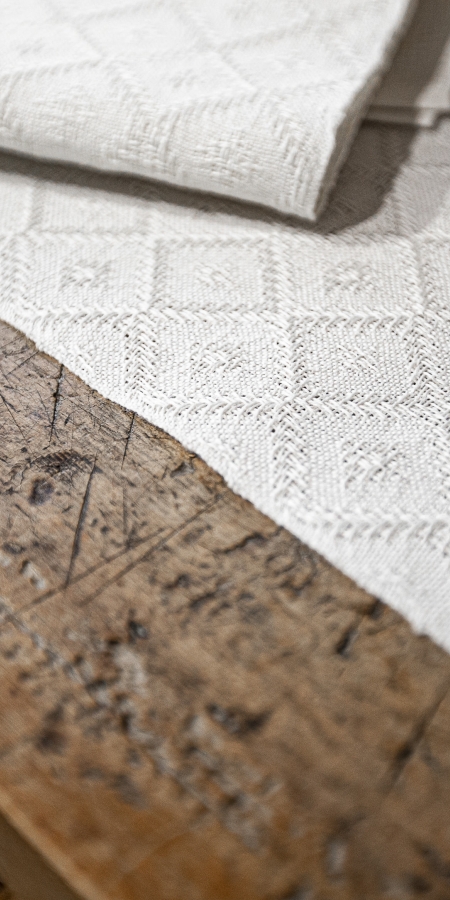 The Tessanda hand weaving mill in Sta. Maria is one of the last professional hand weaving mills in Switzerland. For 90 years now, the weavers have been passing on the secrets of the weaving tradition to their successors.
It rattles and creaks. That is the melody of the looms in the Tessanda. Some of them are 100 or more years old and were made by carpenters from the valley back then. The wooden devices are handcrafted jewels with their own names. They are called «Nepomuk», the «Guardian of Silence» or «Mammoth» — the largest loom in the manufactory. Only yarns made of pure natural fibres are used, from which the former cloth is made, what we call fabric today. Not only wool and linen are processed. The fine silk thread also becomes an elegant accessory on the loom.
The oldest evidence of Tessanda hand weaving dates back to around 800, when the monastery of St. Johann in Müstair was built, which is now a UNESCO World Heritage Site. A fresco painter was employed in the monastery church. In the process, he not only left fingerprints in the soft painting plaster, but also the pattern of his hand-woven sleeve. Today, such textile patterns «made in the 21st century» can be found in the Tessanda's own shop on all kinds of everyday and gift articles. Not China-made, but an authentic and high-quality piece of Val Müstair – made to last forever.
High-ranking visitors for the 90th anniversary
In 2018, the Tessanda hand weaving mill celebrated its 90th anniversary. For this special occasion, the «who's who» of Swiss politics came together. Even Federal Councillor Ignazio Cassis did not ask twice and visited the Tessanda premises together with Cantonal Councillor Christian Rathgeb. Both were visibly impressed by the time-honoured craftsmanship. Not surprisingly, Cassis described the Tessanda as a beacon company of the Val Müstair, which impresses with its commitment and initiative.