Every step a nature experience
Hiking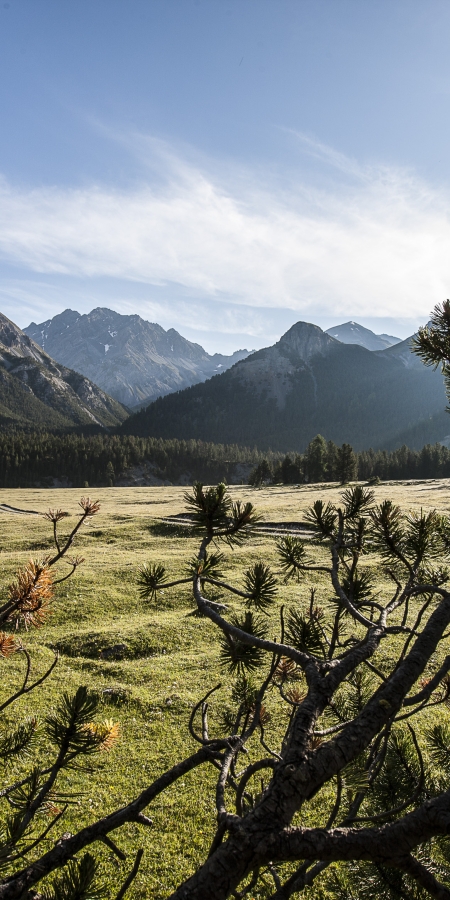 Nature enthusiasts enjoy the unique natural jewels of the Val Müstair on the approximately 250-kilometre-long network of trails - far away from civilisation, in an almost untouched landscape. Let yourself be inspired and sharpen your senses. The Val Müstair is waiting to be explored.
Hike, marvel and observe
The hiking offer
With its breathtaking views, fascinating flora and fauna and instructive insights into nature and culture, the hiking world of Val Müstair gives every bon vivant a home. And there is much to discover - as small and manageable as the valley may seem at first glance. You will experience the majestic flight of the bearded vulture, explore colourful orchids, conquer bold peaks, climb steep scree fields, stroll across wide plateaus, sunbathe at dreamy lakes and let yourself be enchanted by ancient larches.
Preparation for the hike.
Helpful information
Before you lace up your hiking boots and set off, good preparation is important. Thanks to the careful signposting of all hiking trails, you will reach your destination safely, even if it is a remote mountain or SAC hut. Nevertheless, your hiking equipment should be complete and your route well planned. Here you will find valuable tips and safety advice for your next tour.
In addition to nature, the Biosfera Val Müstair is also shaped by the people who live here. Who are they and what do they think about their valley? Let yourself be inspired by further, suitable content on the subject of hiking.