Passionate about it?
Become active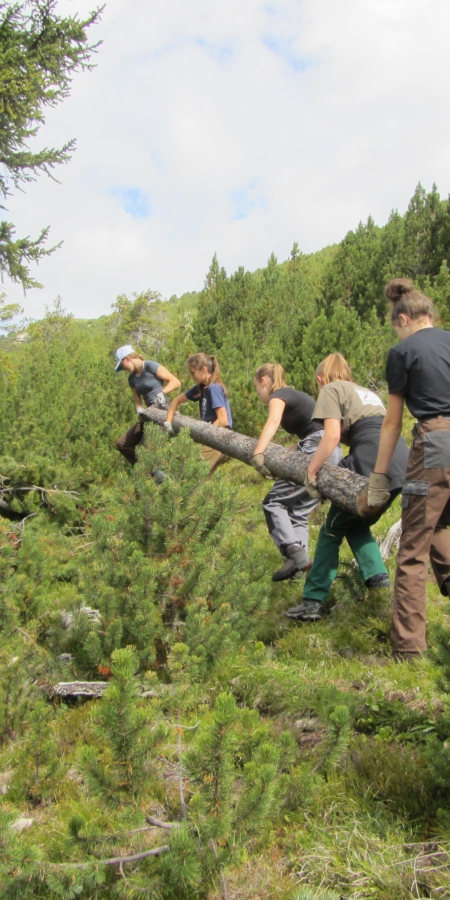 Would you like to actively support the environment and the nature park? Whether you help out with a maintenance project or report observations of animals and plants to us — your commitment is important!
Commitment to the landscape
Biosfera Val Müstair coordinates volunteer assignments with school classes, companies and other volunteer groups in Val Müstair. The groups help with landscape maintenance, simple forestry work and species protection projects. Coordination by the nature park relieves the burden on the actors involved and offers added value for the participants and the local partners.
Private individuals are also welcome! If you would like to help regularly with the maintenance of the cultural landscape and experience the Val Müstair in a very special way during your holidays, please contact us. We are also happy to arrange meaningful outdoor work for individuals or families. Together with our partners from agriculture and forestry, we will find a suitable job where you can help to maintain nature and the landscape in Val Müstair.
Were you able to observe an animal on your hike, a walk or in your garden in Val Müstair? Have you spotted a chamois, fox, hedgehog or even an ermine, tree dormouse or firefly? Report them! Preferably with a photo and exact details of the time and place of the observation on the regional platform of Wilde Nachbarn. Here you can also find more information on actions in the region.
«Garden Sleepers Wanted» campaign
The small garden dormouse — Animal of the Year 2022 — is a secretive forest dweller. It is usually found at higher altitudes between 1,000 and 1,600 metres above sea level. But where exactly does it live in Val Müstair? Help us to track down the distribution of the small mammal with the black mask.
«Swallowtail and Shaggy Bee» Action
Around 230 butterfly species and over 600 wild bee species live in Switzerland and pollinate our wild and cultivated plants. A large number of these flower visitors also live in Val Müstair, but much is still unknown about their distribution. Join the project «Swallowtail & Shaggy Bee» and get to know the butterflies and wild bees in Val Müstair.