Out and about in nature
Predators, mother cows and guard dogs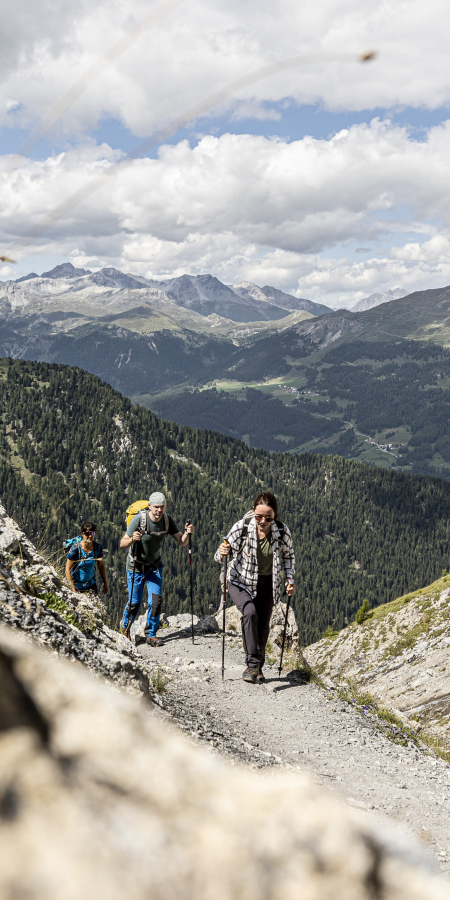 During a hike or a bike tour through the Val Müstair, you will enter the habitat of various farm and wild animals. In addition to suckler cow and sheep herds with guard dogs, bears and wolves currently live in our region.    
Unterwegs im Lebensraum von Raubtieren.
Die wichtigsten Verhaltensregeln
Werden die Verhaltensregeln eingehalten, besteht für Wanderer*innen, Biker*innen oder Tourenskifahrer*innen keine Gefahr durch den Wolf. Alle Outdoor-Aktivitäten können trotz der Wolfspopulation in Graubünden wie bisher ausgeübt werden.
Freizeitaktivitäten sollten grundsätzlich auf ausgewiesenen Wegen und Plätzen stattfinden. Die Lebensräume sämtlicher Wildtiere sind zu respektieren.
Achten Sie darauf, dass die Tiere nicht von offen zugänglicher, potenzieller Nahrung angelockt werden (z.B durch Abfall). Entsorgen Sie keine Essensreste im Wald (etwa bei Grillplätzen), auch keine kleinen Mengen.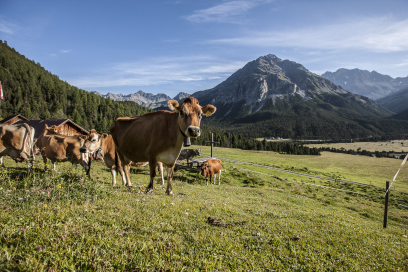 Herdenschutzhunde und Mutterkuhherden
Im Val Müstair wachen Herdenschutzhunde über ihre Herde und Mutterkühe weiden mit ihren Kälbern. Erfahren Sie hier, wo die Herden und Herdenschutzhunde anzutreffen sind, und wie Sie sich verhalten sollen. 
What should I do if I encounter a bear?
Stay calm and try to grasp the situation calmly.
Do not approach the bear under any circumstances and avoid anything that the bear might see as a threat.
Identify yourself as human and move away without taking your eyes off the bear.
Avoid eye contact.
Do not leave litter or attract bears with food.
Stay on the trails and keep your dog on a leash.
Report observations of bears and their tracks to the local game warden. 
What should I do if I meet a wolf?
Stand still and try to grasp the situation. If the wolf notices you, it will usually retreat or flee.
If the wolf does not flee immediately, draw attention to yourself with a certain voice.
Retreat slowly, the wolf will observe you or flee directly.
Under no circumstances try to approach the wolf, not even for photos.
Never pursue a wolf.
Wolves must not be fed under any circumstances!
Report wolves with conspicuous behaviour or low shyness to the Game Warden.
Wolves may view dogs as intruders or prey. Always keep your dog under personal control or leash it.
Further information compact
Leaflets Office of Hunting and Fishing Canton Graubünden.