On the trails together
Fairtrail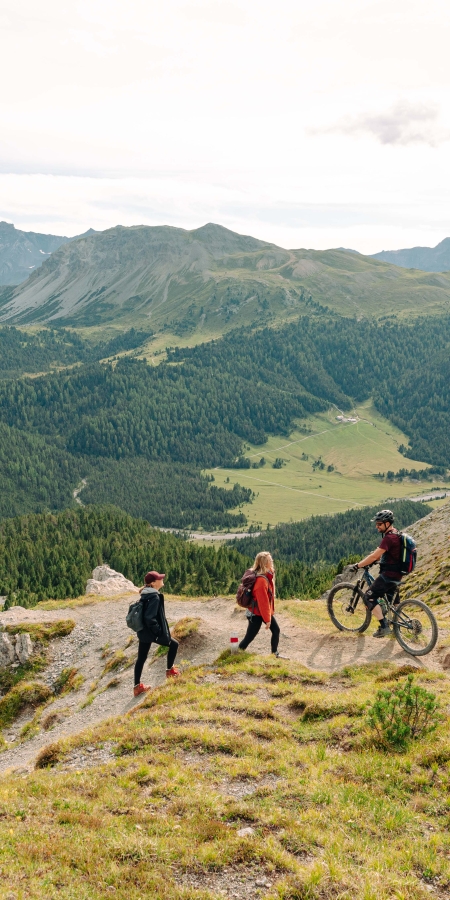 Over 150 kilometres of hiking and biking trails are waiting to be discovered by you in Val Müstair. With mutual acceptance and consideration, everyone can spend a beautiful and relaxing time in nature. At the same time, nature must not be forgotten and care must be taken of it.
In Graubünden, biking on hiking trails is permitted by law, as long as there is no official ban on riding. Almost every hiking trail is also a biking trail.
The extensive Val Müstair offers enough space for hiking and biking. We ask you to respect each other and show consideration – grazcha fichun! This way everyone can spend a relaxing and carefree time in our holiday region.
The National Park region impresses with its intact nature. In order to preserve this beauty, we are all asked to take care and show consideration.
Use existing paths and routes and do not shorten them in order to protect the habitats of animals and plants.
Do not enter protected zones. Find out about the protected zones before your tour.
Keep the environment clean and take the waste back to the valley.
When grilling, use the fireplaces provided for this purpose.
Thank you for respecting nature!
Wir übernehmen Verantwortung.
Das Bündner Bergmanifest
Das Bündner Bergmanifest zeigt in zehn Punkten auf, wie wir respektvoll mit den Bergen, der Natur und allen Lebewesen, die dort zuhause sind, umgehen.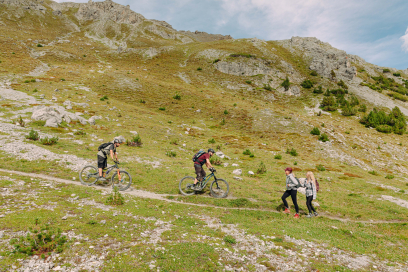 Coexistence
Piz Umbrail – Lai da Rims
The Lai da Rims is a popular highlight for hikers and bikers. To ensure that this remains the case, a priority regulation was developed in addition to the Fairtrail campaign, which is intended to reduce conflicts when using the trail.