Where gazes roam
The most beautiful viewpoints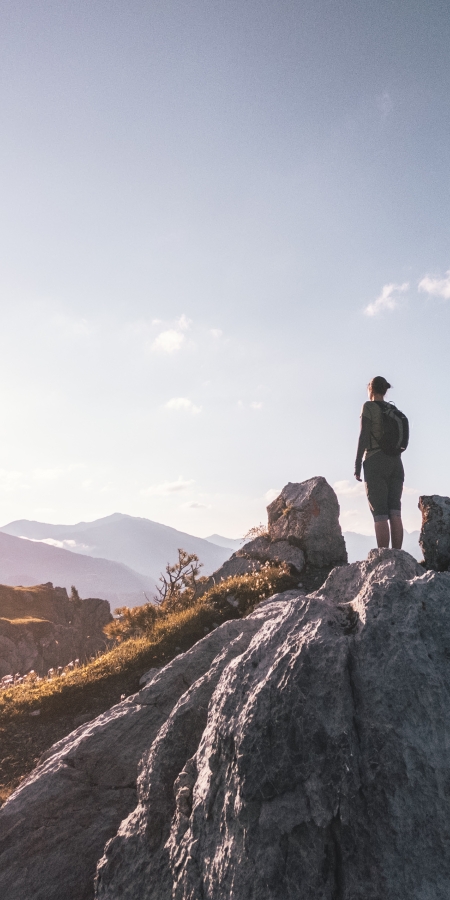 Dreamlike mountain scenery and impressive nature – in Val Müstair there are many beautiful vantage points that offer just that. We have put together the hikes to the five most beautiful viewpoints for you. Let yourself be inspired!
Müstair – Cascada da Pisch – Guad – Müstair
From Müstair, the route leads to the «Cascada da Pisch» waterfall and then on to the Bain da Guad. The ascent takes about 1 hour and 15 minutes and is also easy for children. At Bain da Guad you can enjoy the magnificent view over the Val Müstair. The subsequent descent to Sielva/Sta. Maria leads along a forest road directly to a PostBus stop and takes about 30 minutes. It takes about 45 minutes to reach Müstair. 
Süsom Givè – Il Jalet – Süsom Givè
A circular hike of around one hour from Süsom Givè into the rugged mountain world of Il Jalet, from where you can enjoy a dreamlike view of the Val Müstair and the Swiss National Park. On top of that, the bizarre rock formations of the Jalet flank can be marvelled at.
Tschierv – Lai da Chazforà – Alp Sadra – Fuldera
The scenic hike leads from Tschierv via Funtauna Grossa, where you can hike over the Lai da Chazforà and then down to Alp Sadra. Or the somewhat easier variant, from Funtauna Grossa directly to Alp Sadra with subsequent descent to Fuldera. The hike offers wonderful views over the Val Müstair.
Taufers – Piz Chavalatsch – Müstair
This rather demanding hike leads to the easternmost point of Switzerland, the 2,761-metre-high Piz Chavalatsch. The magnificent panoramic view from Piz Chavalatsch is reward for the demanding ascent. The hike can be done from Müstair or from neighbouring Taufers (I).
Prà da Vau – Lai da Rims – Alp Sot – Prà da Vau
A pearl in the midst of magnificent mountain scenery - the Lai da Rims. From Prà da Vau, the approximately 1.5-hour hike leads to the lake. The more demanding variant leads from the Umbrail Pass over the Piz Umbrail (3,033 m above sea level) and then down to the Lai da Rims. From the lake you can enjoy a wonderful view of the surrounding mountains and the village of Lü on the opposite side of the valley.