The eponym
UNESCO World Heritage Monastery St. Johann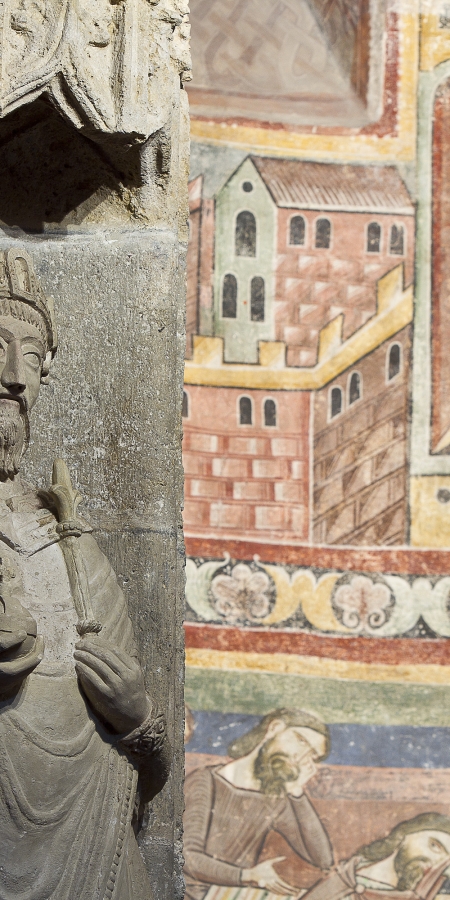 It is the undisputed flagship of Val Müstair – the UNESCO World Heritage monastery of St. Johann attracts guests from near and far to the valley. Here Benedictine everyday life, cultural cultivation, art and research meet. The church houses the largest and best-preserved fresco cycle from the early Middle Ages, and the monastery museum brings the over 1200-year history of the monastery to life.
The monastery of St. Johann is also the eponym of the entire Val Müstair, because the establishment of the monastery was followed by the gradual settlement of the valley. This is how the valley came to be known as Münstertal or Val Müstair, because the Latin word for monastery is «monasterium».
Legend has it that none other than Charlemagne laid the foundation stone for the monastery. Having just been crowned king of the Lombards, he got caught in a snowstorm on the Umbrail Pass. Out of gratitude for having survived the storm, he founded the monastery in Müstair in 775. Or so the legend has it. The monastery church shows that this is true: the wood in the beams was felled in the year the monastery was founded, the frescoes date from the founding period and the stucco statue in the church bears witness to Charlemagne. The frescoes from the Carolingian period then earned the monastery the UNESCO label.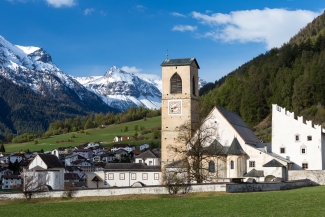 The monastery complex combines 1200 years of history. The church and the Plantaturm with its dovetail battlements form the most characteristic landmark of Müstair. The Plantaturm – probably the oldest residential tower in the Alpine region – now houses the monastery museum. It offers a view of the monastery rooms, from the cloister to the Gothic refectory and Baroque cells. The complex is completed by the Holy Cross Chapel and the bishop's residence. This ensemble still characterises the appearance of the monastery today. Originally founded as a monastery, it has been an all-women's convent since the 12th century. Today, eight Benedictine nuns live here.
Gülsha's little wonder of the world
In November 2019, the monastic community welcomed a woman into its ranks who, at first glance, does not fit into monastic life at all. Gülsha Adilji, who became known as the presenter of the social media TV show «Joiz», withdrew for three days and nights into the seclusion of monastic life. The quick-witted presenter - herself born a Muslim - had repeatedly made critical comments about religions in the media. In principle. And without taking sides for one religion or another. Nevertheless, Gülsha did not have to think twice when she was personally invited to the St. Johann convent by Sister Domenica Dethomas, the long-time prioress.