Downhiller, engineer, bicycle baker
Sergio Tschenett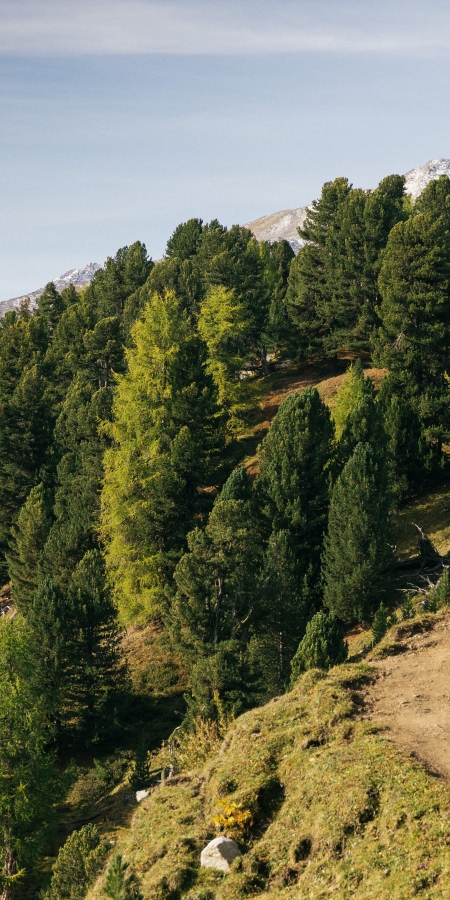 He smoothly weaves his way through difficult block passages and uses every rise to briefly take off. What speed! What control! Sergio Tschenett is a really good and elegant biker. The Val Müstair and the surrounding Alpine passes have shaped him.
By PostBus to the top of the pass
Sergio particularly likes to start a tour in the Minschuns area. «I like the peace and quiet up here and the view of the glaciated Ortler. And the nice thing is: you and your bike can take the PostBus up to the Ofenpass.» From there it's not far to the start of Sergio's favourite tour...
There's no place like home
The finish of the eternally long trail loop is 1,250 metres further down - directly in front of the famous St. Johann monastery in Müstair. For Sergio, this is the most beautiful place to bike. And beautiful places he has seen many while travelling the world as a downhiller. «But the further away I was, the more I told people how good the trails are in Val Müstair. So I returned again.»
Engineering from the Val Müstair
Even when Sergio is not on a bike, almost everything revolves around mountain bikes. He works in his parents' business with a metalworking shop and bike shop. He loves to stand in front of his CNC milling machine and develop sophisticated parts to change the geometry and stiffness of downhill bikes. Quite a few pros swear by it.
You can also bake bicycles
Screwing and welding, milling and filing. Sergio can spend whole nights in his workshop tinkering. His zeal knows no bounds. And so it can happen that he suddenly knocks at the baker's with a bicycle frame and asks if he can have it hardened at 180 degrees for four hours.
Perfect topography for single trails
In the past, it couldn't be crass enough for him, but today Sergio wants above all to have fun and a good time. Nevertheless, he has remained demanding. He wants to ride single trails, single trails and single trails again. And he finds plenty of them in the valley. «We are surrounded by high, but flat mountains - the perfect topography for long and flowing single trails».