Unique and close to nature
Playgrounds in Val Müstair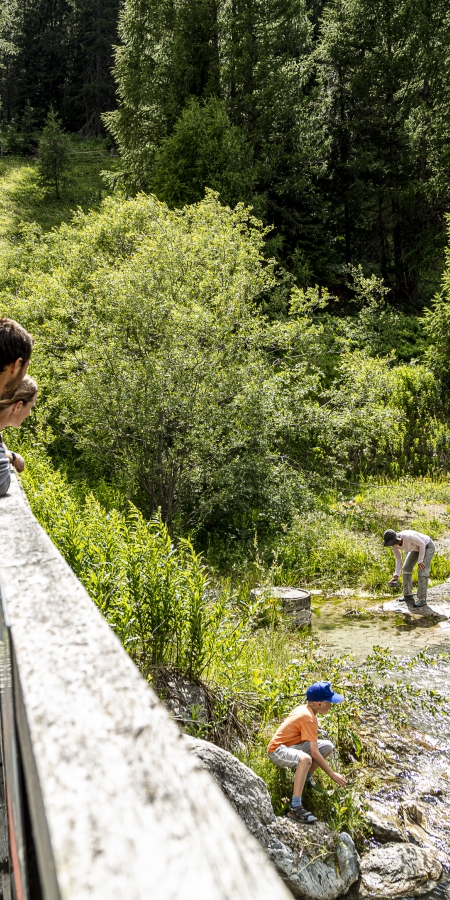 Among the numerous playgrounds in Val Müstair, we would like to introduce you to a few selected gems that stand out not only because of their equipment, but also because of their uniqueness and proximity to nature. What could be better than diving into the intact and untouched natural landscape of Val Müstair with your loved ones and enjoying a few wonderful moments with the family, far away from civilisation?
1. playground «Plazzöl»
A pearl on the Rombach
A wonderful playground and barbecue area on the lower edge of the village of Müstair, directly on the Rombach stream. In addition to the various play utensils on the playground, the renaturalised stream offers plenty of space and opportunity for games by the water.
2. playground Lü
The playground in the middle of the forest
The playground in Lü is located outside the village in the middle of the forest. It is very popular, especially on hot summer days, because the shade of the trees provides cooling. The playground also has fireplaces and seating.
3. playground «Pradellas»
The playground with panorama in Sta. Maria
The playground «Pradellas» is located above the village of Sta. Maria near the campsite. Surrounded by trees and mountains, the playground offers a magnificent view. At the playground there is also a fireplace and seating.
4. playground Valchava
The playground on the «A la riva dal Rom» hiking trail
This playground and barbecue area is located on the lower edge of the village of Valchava on the hiking trail «A la riva dal Rom». The various play equipment and climbing frames offer fun for adventurers big and small.