On the road with «Ride La Val»
Nicci Tschenett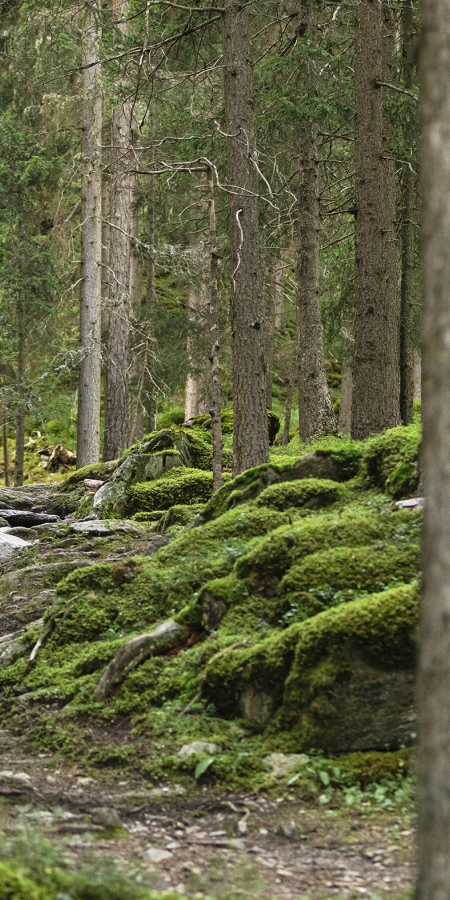 Root path and block passage - no problem. Narrow hairpin bends and long climbs - definitely. Nicci Tschenett feels comfortable in any terrain. Her motto: «Better too fast than too slow». As a bike guide, however, she also knows where caution is called for. And above all, where the most beautiful trails are hidden in Val Müstair. Today she is on the road in the Val Mora and Passo del Gallo area.
Like Canada - only much closer
Nicci loves the view of Val Mora. «The valley is beautiful, so pristine and very different from what we are used to. That's why we call it 'Little Canada». She used to milk cows down here and run the alpine tavern, but today she prefers to guide mountain bikers through and around the valley. Local bikers founded the Ride La Val trail school in 2018. Nicci was enthusiastic about it and can now live her dream: She is a bike guide in summer and a ski instructor in winter.
Cruising leisurely through Val Mora is a scenic dream, but Nicci prefers trails with more action. «Most of the guests do too»" she says with a smile and takes the turnoff towards Passo del Gallo. «There we are already in Italy and a cool descent with many hairpin bends begins. But these are not as difficult as you might think when you look at the map,» explains the 30-year-old and drives ahead at a good pace.
The art of staying on the bike
Suddenly there is another tight hairpin bend! Nicci masters it with an elegant hop over the front wheel. Her tip: «Always choose the inside line. And don't look into the abyss or at Lago di Livigno, but look ahead towards the trail». She likes to conduct riding technique training sessions with her guests. For example, she shows them how to get off the bike in steep terrain, how to read the terrain correctly or how to steer smoothly around bends.
Taking a breath for the eternally long descent
We return to Switzerland via the Passo Val Mora. Now strength is required, either in the legs or in the battery of the e-bike. The ride through the long Val Mora is a long one. Finally a break at the legendary «Mumma Veglia» stone. Take a deep breath for Nicci's favourite part: the long descent to Sta. Maria. «This is where the fun really begins. If you know your stuff, you ride it all on single trails, 750 metres of altitude downhill.»
«In Val Müstair I find endless trails».
Chin over the handlebars, elbows out - and let it rip! Nicci flies over the legendary trail «Hom dal chapè». She loves her home valley because she finds real nature, good people and endless bike trails here. «You can do a different tour every day for a week. And the good thing: thanks to the natural forest floor, the trails still offer grip even in wet weather.»
Biking and mushrooming - why not?!
When Nicci feels the flow, she can hardly be stopped - unless she sees a boletus or chanterelle flash in the corner of her eye. And this is not uncommon in the Biosfera Val Müstair. «I love mushrooms. When I'm biking alone, I can suddenly spend hours in the forest and forget about time.» Her tip for cleaning mushrooms: «The best way is with a bike tool.»
The main thing is to laugh
Next to biking, cooking is her favourite hobby. And Nicci does it in the same way she rides her bike: spontaneously, eager to experiment and always with a hearty laugh. «I never cook by recipe, I always create my own version.» What she particularly likes to prepare are Grisons specialities such as capuns. She can collect the chard leaves for them in her mother's garden in Müstair.
More about the passionate biker Nicci Tschenett
Nicci Tschenett grew up in Val Müstair and has always enjoyed being outdoors and doing sports. When she was young, she went ski racing. That's when she discovered her passion for speed. Even back then, she liked to go mountain biking often, especially to train her stamina. «But my colleagues always told me I was going downhill too fast,» she laughs. After racing skiing, she was looking for a new challenge and started biking on trails. In the meantime, the movement talent has trained to become a Swiss Cycling bike guide.
7 Keywords for Nicci Tschenett
Faszination Mountainbike: «For me, biking is a kind of flying just above the ground. I like the variety and playing with the terrain. And biking makes me happy.»
Uphill biking: «I really like riding uphill. And I also think it's cool to carry my bike up a mountain. Then the descent is all the more fun.»
Brakes: «Braking properly is more difficult than you think. Firstly, it is important to always be ready to brake. And secondly, that you apply both brakes at the same time. Many people are afraid to apply the front brake properly.»
Skiing: «I still like skiing, preferably in deep snow on a ski tour. And in winter, skiing is my profession. I've been working at the Swiss Snowsports School Scuol for more than ten years. I'm a training manager and I like teaching children.»
Office job: «I did a commercial apprenticeship and know what it's like to sit in an office all day. And I soon realised that an office job is not for me.»
Like-a-Bike: «On Wednesday afternoons, I regularly go cycling with the local children. Even with the very young ones who only have a bike without pedals, a like-a-bike. That's a lot of fun for the children and for me.»
Hiking: «There are many hiking trails in Val Müstair, but not all of them are suitable for biking. That's one of the reasons why we founded the Ride La Val trail school. We want people to ride on the right trails. And that hikers and bikers respect each other.»