Duurabissa and Gnüssa - In the footsteps of the former professional
Gianluca Cologna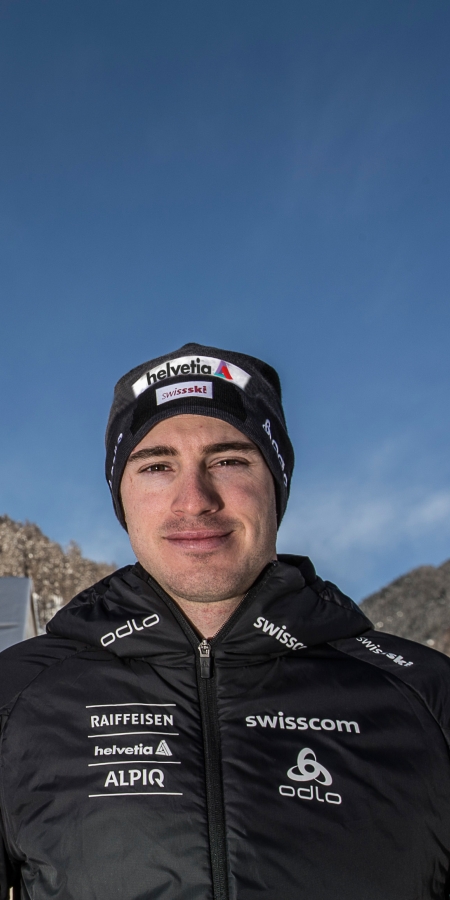 As a previous venue of the Tour de Ski and two top local athletes, the tranquil valley has very prominent cross-country ambassadors. We meet Gianluca Cologna on the famous sprint track in Tschierv.
Gianluca is standing on the steepest ascent of the sprint track. Right here, where the world's elite used to compete every two years on the occasion of the FIS Tour de Ski, he has a few insider tips for us. The pro tells us when and how best to save energy on the track, and where you simply have to «duurabissa» - bite through. The key section of the 700-metre sprint course in Tschierv is one such example. Extremely steep, no matter how you tackle it. So we bite through for a few seconds - without a «Ladystep» - and once we reach the top we enjoy the view over the valley. The two top athletes grew up here in Val Müstair and, above all, became fast!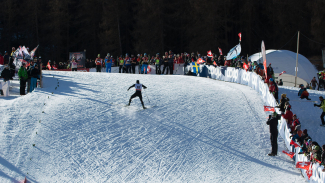 «I like being here and enjoy the intact nature. Nowhere else is this so tangible and tangible as in Val Müstair,» enthuses the rather quiet, somewhat shy top cross-country skier. Does his modesty and reserve perhaps stem from the nearby Benedictine monastery and UNESCO World Heritage Site of St. Johann in Müstair? Gianluca laughs: «We are generally down-to-earth in Val Müstair. But the convent probably also had a big influence on me, especially as a child.» More than 20 years ago, the Colognas attended kindergarten with Sister Domenica Dethomas.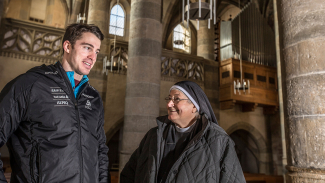 Gianluca Cologna Classic-Days
Like the calm tone of the cross-country ambassador, the trail follows a gentle stretch of forest to the Furom cross-country centre. Gianluca works here every year as a coach and passes on his knowledge to the participants of the «Gianluca Cologna Classic Days». They enjoy two days with their role model and get tips from the pro on and off the track. «The route from Furom via Fuldera to Tschierv is ideal for this - it offers all kinds of terrain, for every challenge of cross-country skiing».
«The one up there is my favourite.» Gianluca points southeast to the former observatory of Lü. «The high-altitude trail of Lü lies on a sunny plateau and offers ideal training conditions.» We can already guess what the pro means: a breathtaking altitude profile characterises the loop. But the panorama makes up for every climb. «After training, I take my cross-country skis on the prepared toboggan run back to Tschierv.» A mischievous laugh flits across his face at this last insider tip. Probably because this descent is only for the hardy - or because he has many more tips in store?