Cross-country skiing as a passion
Curdin Bott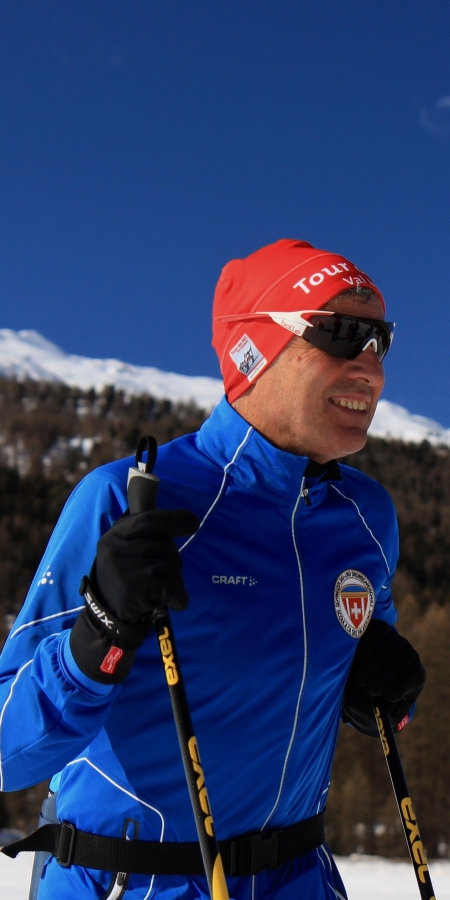 Freshly groomed trails, blue skies, warming rays of sunshine – such conditions put Curdin Bott, the long-time cross-country ski instructor of Val Müstair, in a good mood. «When the weather is this beautiful, there's nothing better for me in winter than to go cross-country skiing,» admits Curdin.
Curdin Bott is still active as a cross-country skiing instructor today. «I usually start my day as a cross-country skiing instructor at the Fuldera cross-country skiing centre. There I meet my guests and, if necessary, assist them in fitting their rental equipment, which the Aventüras sports shop provides on site.» The cross-country centre with its café is a popular meeting place for guests and locals. That's how Curdin Bott meets his old acquaintance Remo Cologna. Curdin was the Cologna brothers' cross-country ski instructor in their early days. As they talk, the two recall amusing anecdotes. «For the first race, Dario didn't have any cross-country skis yet, so my daughter Flurina sold him hers. They seemed to fit him well - Dario was already able to compete at the front of the field,» says Curdin with a smile.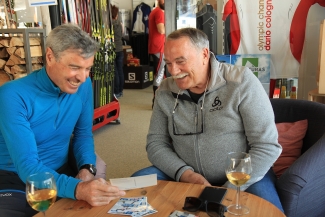 Cross-country paradise on the doorstep
Whether skating or classic - the cross-country centre is the ideal starting point for running the trails in the valley. «That was one of the reasons why I wanted to move to Fuldera with my wife Rosanna,» admits Curdin with a smile. «For me it's a privilege to be able to cross-country ski almost to the front door after lessons. With the cross-country ski pass, which can be bought at the guest information or online, my students can continue to hone their technique on their own after class and discover the varied 29 km of cross-country ski trails.»
Curdin, the active grandfather
Back from the track, Curdin cherishes the time with his family. His grandsons Gianna and Nicola watch in anticipation as their grandfather carefully waxes the cross-country skis. «My family and my grandchildren are everything to me and I am very grateful to have a lovely wife,» Curdin enthuses.
Curdin loves and appreciates the Val Müstair with its intact nature and enjoys doing his bit by processing sustainable resources. «I worked as a carpenter for 45 years and it still gives me pleasure when I can shape a wooden blank into a beautiful utilitarian object in my small in-house workshop.» Today, granddaughter Gianna is turning a wooden bowl from a piece of cherry wood with her grandfather's help. «It is especially nice when I get support from my grandchildren and can pass on the beautiful craft to them,» says Curdin proudly.