Noble cheese
Chascharia Val Müstair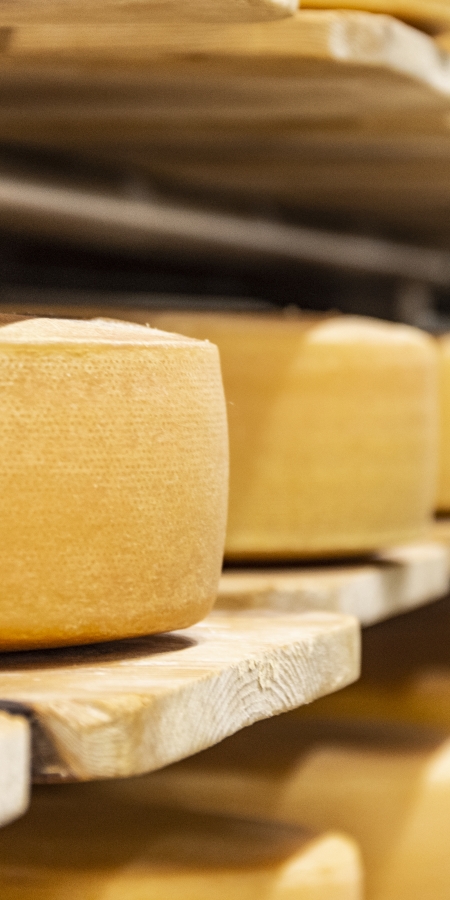 The Chascharia Val Müstair has been an integral part of the Bünder Südtal since 1987. Others have also found that the cheese from the Chascharia tastes excellent, which is why the cheese has already won several awards.
In 2020, the naturally matured "Chavalatsch" took 3rd place in the World Championship Cheese Contest in the open semi-hard cheese category. Successes like these come as little surprise, because even the raw material is of the highest quality: all the dairy farmers are certified organic.
Organic milk from the nature park
It is impossible to imagine Val Müstair without the Chascharia Val Müstair. Every year, twelve farmers from the valley supply the Chascharia with around 1.5 million litres of cow's milk and 5,000 litres of goat's milk. The short delivery routes protect the environment and for the well-being of the animals, all dairy farmers do without silage and instead rely on hay feeding. This ensures high-quality, regional organic milk products such as yoghurt, cream, butter and above all cheese. With great attention to detail, over 100 tonnes of semi-hard and hard cheeses are produced annually from the hay milk supplied. These include the cheese varieties extra ripe, naturally matured, quarter-fat to full-fat, Mutschli, cream cheese, soft cheese and goat cheese. All cheeses are labelled with the nature park's product label.