In harmony with man and nature
Manuela Zen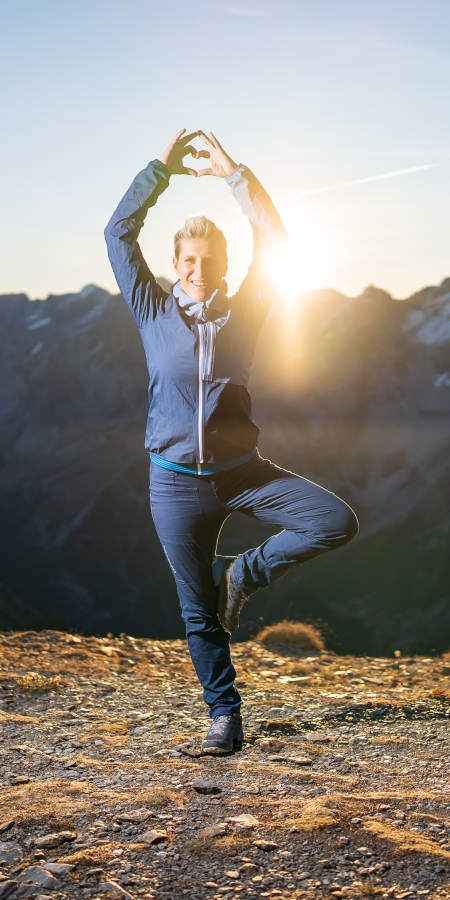 It is the joy of movement, preferably in intact nature, that Manuela Zen enjoys so much. With great passion she passes this on to her guests who have discovered the small Val Müstair for themselves. As a trained Pilates and smovey teacher as well as ESA hiking guide, Manuela wants to contribute to people's holistic well-being. We accompany her on this journey for a day.
Pilates - for body and mind
The sun is still hiding a little behind the mountain peaks and the stars twinkle in all their glory above the Stelvio. It is a fresh, cloudless morning in late summer. Together with her guests, Manuela sets off on a short hike to the Dreisprachenspitze, which lies directly between Switzerland and Italy. The early morning tiredness is still somewhat noticeable in the group, but there is also a slight smile on their faces. After all, everyone knows that they are about to experience something very special: A Pilates training session at sunrise in an impressive mountain setting.
The mighty Ortler is enthroned on one side, the Piz Umbrail is visible on the other. After a short warm-up phase, the trained Pilates teacher shows her guests of all ages strengthening exercises to train the whole body muscles. Breathing also plays an important role. The guests' initial smiles have now turned into smiles. It is precisely these moments that Manuela appreciates so much.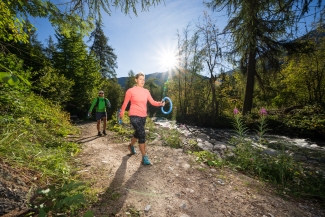 Swing rings for a better well-being
Manuela spent a large part of her working life in the office and over time the need arose to become more involved with the topic of movement and its positive effect on the human body. She got to know the smovey swing rings and their beneficial effect on people. The rings, which are light in themselves at around 500 grams with integrated steel balls, reach many times their own weight when used intensively. Since all organ reflex points are located in the hands, they are stimulated as well as brain activity. When used correctly, the entire body musculature is strengthened and the circulation is stimulated. Manuela's favourite thing to do with her clients is to go out into the soothing nature, thus combining the training with a stay in the beautiful landscape and the fresh mountain air.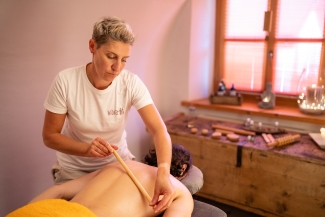 From movement to relaxation
During her training as a smovey instructor, Manuela also took part in further training in deep relaxation and continued her education as a wellness masseuse, pain and movement therapist. The world seems to be spinning faster and faster, and constant stress and pressure can make you ill. Relaxation is therefore an important component for a healthy, balanced life.
In her own practice, Manuela gives her guests exactly this feeling of peace and security through various deep relaxation treatments such as sound massages and gentle strokes using essential oils. Even sporty guests who are travelling in the valley and have completed a tour lasting several days treat themselves and their strained muscles to the soothing effect of a massage.
Pain-free to more quality of life
Almost everyone knows it and is confronted with it sooner or later - pain. The causes can be manifold, be it due to an accident or an illness. But modern office life also has its pitfalls and many people fall into one-sided movement patterns that can cause pain. Manuela offers various exercises that specifically counteract muscular-fascial contractions and can thus contribute to a pain-free life. 
Doing something good for body and mind comes easily to Manuela in the nature of Val Müstair. She particularly likes to put on her trail running shoes and run along one of the varied paths around the Ofen Pass. Striking rock formations alternate with wonderful views over the entire valley. But she is also enthusiastic about the more relaxed tour along the Rombach stream or the challenging climb up to the picturesquely situated Lai da Rims. When running, Manuela can really run free and find new ideas for well-being.
Text & Bilder: Dominik Täuber.